Welcome to Mad About Swing
Swing dance classes in Plymouth led by Duncan and Louise: bringing the rhythms and vibe of the 1930s & 1940s swing era into the 21st Century!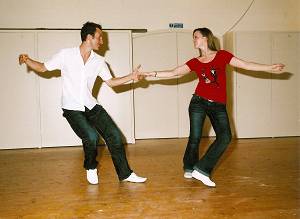 Weekly lessons in Lindy Hop
Learn to dance in a fun and relaxed atmosphere. We offer weekly classes in the centre of Plymouth and our level 1 classes are always suitable for complete beginners, so you can literally turn up any week!
Start any week
No partner required
No need to book in advance
Door price £7 per evening (8.15pm – 10.15pm)
Members £6 (further details)
Mad About Swing returns for 2018 on 3rd January with a Balboa special: two back-to-back lessons suitable for beginners. Doors open at 7.15 pm for a 7.30 start.
Every Wednesday
Lindy Hop levels 1, 2 & 3
Next class –

Today, Wednesday 17th January 2018

Usually the first Saturday of the month
Next Sugar Foot Stomp – Saturday 3rd February 2018
Hot Tunes on a Cold Winter's Night with The Lazy Dart Swing Band
We look forward to seeing you on the dance floor soon!