Socials and Events
Mad About Swing presents The Speakeasy
6th May and 7th October 2017
Our 2016 Speakeasy was incredible and possibly our best Speakeasy yet. In 2017 we have plans for not just one but two extra special vintage events. The Speakeasy will take place on 7th October: details coming soon...
In addition to that, we'll also be hosting an event entitled
'The Cotton Club'
on 6th May.
Last year's Speakeasy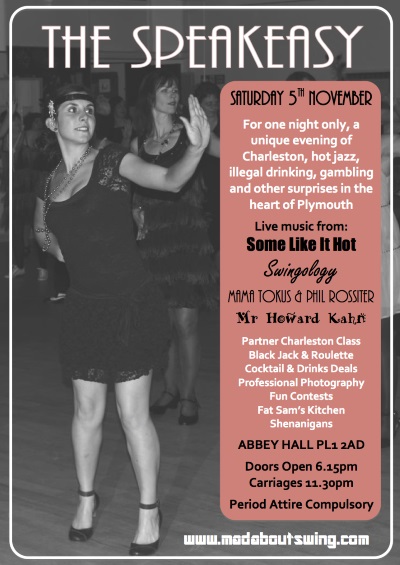 Bigger and better than ever before, the secret location of this year's Speakeasy will be the historic and beautiful surroundings of Abbey Hall in downtown Plymouth. An exciting feature of this new setting is that we'll be staging not one, but two, live music rooms: the main Savoy ballroom, where the focus will be dancing, and the downstairs Cotton Club den which will house the Bootleg Bar, Gambling Tables and an intimate live music area. In a separate annex, our portrait studio will be open for business to capture you in your 1920's finery. In addition to the swinging sounds of Swingology and Some Like It Hot, this year we're adding the charismatically soulful tones of Mama Tokus (accompanied by Phil Rossiter) and the quirky, yet brilliant, delights of pianist Mr Howard Kahn.
Timings
| | |
| --- | --- |
| 6.10pm | Doors open |
| 6.30pm | 1920's Charleston Class |
| 7.15pm | Official Speakeasy begins, live music upstairs and downstairs, bar opens and photography commences |
| 7.30pm | Gambling tables open |
| 8.45pm | Fat Sam's Kitchen serves up pizza (pre-orders only!) |
| 11.30pm | Entertainments cease |
A full timetable will be available on the night to help you plan where you want to be at different times of the evening. This will include the live music program and details of fun competitions, shenanigans and hourly drinks deals!
Food
We realise that partying hard requires sustenance so, this year, we're offering a meal option in the form of New York pizza. Choose from pepperoni, margherita, four cheese and Hawaiian.
£5 – An entire 10 inch pizza
£5 – Half a 10 inch pizza with a dressed salad
Pizza orders must be placed by 29th October
Please note that because of the nature of this event, the provision of your own food and drink is strictly prohibited.
Ticket prices
£14 early bird rate (payment by 1st October 2016)
£16 advanced rate (payment by 2nd November 2016)
£20 full price (thereafter and on the door if still available: last year's event sold out weeks in advance)
To book your place, send a cheque made payable to 'Mrs Louise Anderson' to 3 Parks Drive, Plymouth PL9 9FG. Please include all of the names of the people you are booking for, a contact number and your email address so that we can confirm receipt of your payment.
If you have any queries, please don't hesitate to get in touch:
duncanandlouise@madaboutswing.com
01752 491739
07882 531712
Venue
(Hush! Hush! Don't tell the Feds!)
The Speakeasy, Abbey Hall, Catherine Street, just off Royal Parade, Plymouth PL1 2AD (behind St Andrew's Church and next to The Treasury). The easiest parking option is the Guildhall car park.
What to wear
Period attire COMPULSORY! Here are some ideas:
Women
Flapper dresses, evening dresses, boas, long pearl necklaces, fans. Skirts were cut above or just below the knees, shirts became lower cut and sleeveless, showing off the neck and arms. Chiffon, silk and satin were the most popular fabrics. One of the most common fashion styles was the bob hairstyle. It was also very common for women to wear small hats. During the 20s, women began to wear makeup. The main emphasis was the lips. Women wore bold and deep shades of lipstick. Some of the popular shades included red and bright pink. The rest of the face was kept very natural-looking for the most part.
Men
Classic suits, waistcoats, Zoot Suits, black or white ties on a black shirt was popular, braces, spats (white canvas or vinyl shoe covers), fedoras or gangster hats.
Our live acts
Some Like It Hot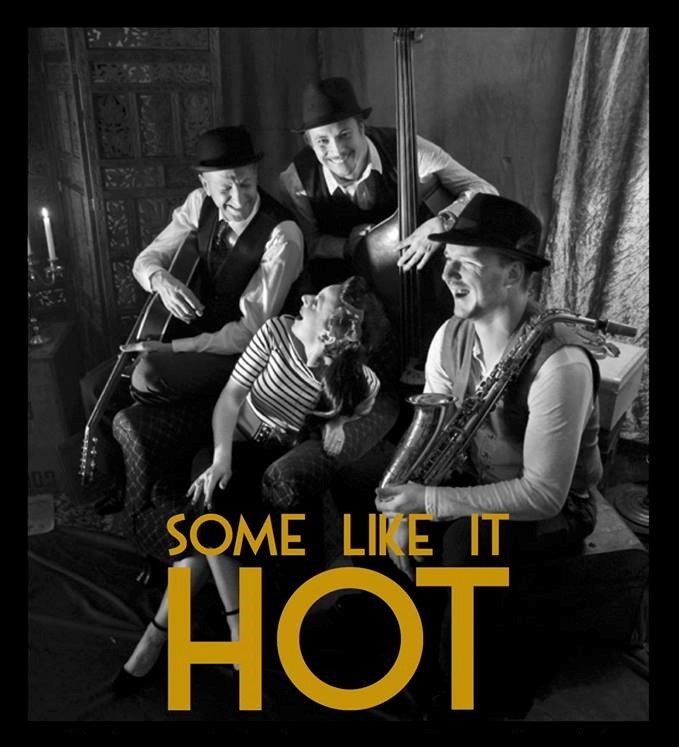 Voted as Mad About Swing's number one band in this year's poll, Some Like It Hot deliver a smorgasbord of jazz delights incorporating vintage classics intertwined with cheeky swing covers of contemporary chart anthems. Powered by the delectably sassy vocals of Ms Molly Banks, Some Like It Hot ooze with flair, personality and panache. We're very excited to welcome them back this year.
Mama Tokus & Phil Rossiter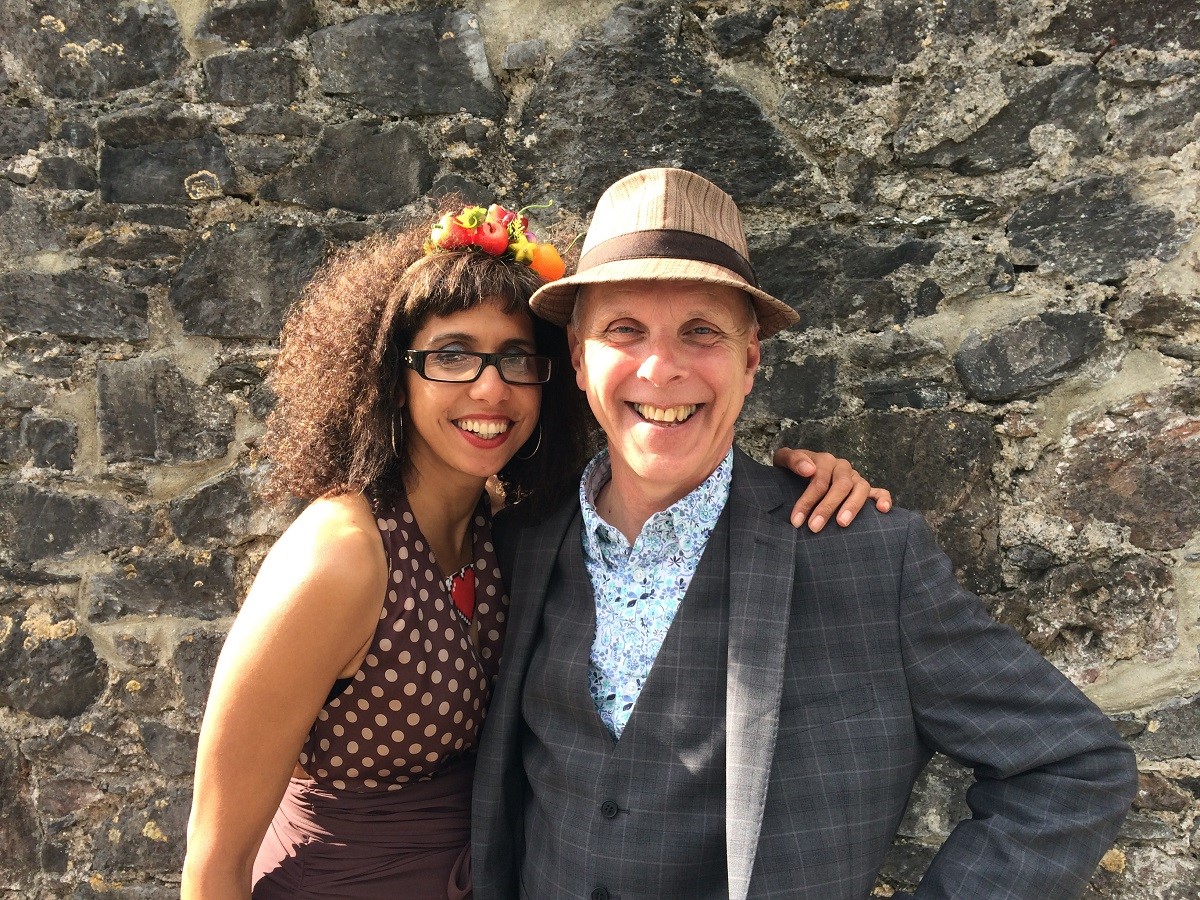 The rapturous whirlwind which is Mama Tokus writes and sings her own tantalising compositions, bringing women's blues bang up to date for the 21st century. On this occasion, she'll be joined by the charismatic Phil Rossiter, delivering soul, swing, ballsy blues and rootsy Americana, harmonising and vocalising a simply splendid array of memorable toe-tapping delights.
Swingology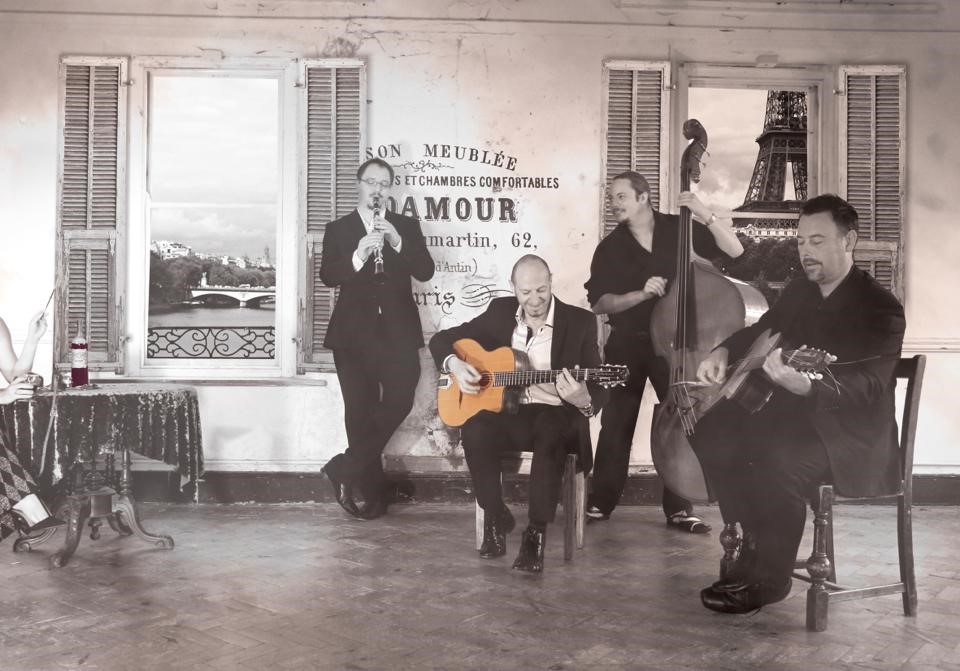 The reason why this band is returning to The Speakeasy for its third year running is simple: We love them! Swingology play an intoxicating blend of gypsy swing and Parisian jazz. Stylish, chic and debonair, this four piece outfit are guaranteed to keep your feet tapping and the dance floor busy.
Mr Howard Kahn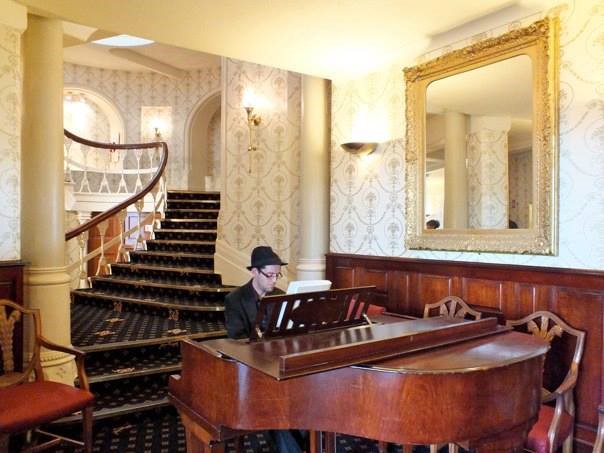 Primarily a pianist, Howard is a classically trained multi-instrumentalist and composer who's performed live for over twenty years. Described as an incredible player, a charming performer and a true artist, Howard will be serenading us with his quirky, yet brilliant, repertoire of vintage delights.
What is a Speakeasy?
The Speakeasies of the 1920s were the cornerstones of the era's social highlife. In a time of prohibition and economic turmoil, these iniquitous establishments were where you went to forget your troubles and have a jolly swell time. For one night only, the guys and girls from Mad About Swing put on their own Speakeasy in a commendable attempt to recreate the vintage, frivolous and carefree vibe of the original hedonistic jazz and booze-fuelled establishments of yesteryear. Whether you wish to dance the night away or simply sit back and soak up the twenties ambience, you're in very safe hands. In our downstairs den, our well-priced and thoughtfully-stocked Speakeasy Bar will be serving some very tempting liquid refreshments: guaranteed to quench your thirst as well as dispel your daily troubles. Whatever your tipple, we'll keep you hydrated and suitably jovial from beginning to end.
You'll also have the opportunity to try your hand at a little underhand gambling... no previous experienced required! Since period attire is a compulsory element of the evening, there'll be plenty of photographic opportunities from a small faction of ardent photographers passionate to capture you at your very best. An event like no other!
Check out the photo reel from last year's event: